Plant-based market raises awareness on Earth Day
Plant-based ramen, non-dairy ice cream, and vegan mooncakes were some of the foods on display Saturday at the Love Our Earth Festival at Menlo Atherton High School.  
The festival, put together by Acterra, a local non-profit environmental organization, aimed to celebrate Earth Day by raising awareness of plant-based food, sustainability, and eliminating food waste. The food market portion of the festival included more than a dozen vendors.
Steve Yutani, a nutritionist at RamenZ, described his plant-based ramen as a tool to help anyone working to maintain a healthier diet. 
"This [plant-based ramen] is an alternative for people with diabetes and for people with other disorders or deficiencies or anything like that that want to eat healthier," Yutani said. 
Due to his own struggles with blood sugar and other health problems, Yutani sought alternatives to carb-filled dishes.
"This [plant-based ramen] is the perfect fit," Yutani said. "Since then, I turned my health around 100%."
Yutani said he wants RamenZ's plant-based products to encourage people to research and understand what "true health" means. 
"A lot of people don't realize what true health is because what the media and government have told us for decades, it's not exactly true," Yutani said.   
Yutani said true health differs from person to person, but can be found through researching and finding what accommodations work for that person. 
"I think people should do their own research, look at what's good, what's not healthy and make their decisions based on that research," Yutani said. 
Ultimately, in order to achieve good health, it's important to get all of the needed nutrients, but that doesn't mean sacrificing the taste and flavor that non-plant based foods have. 
Along with health benefits, other vendors, including Eclipse Foods, also focus on different environmental aspects of plant-based products. 
"
You cannot go zero waste tomorrow, but at least if you choose a reusable bag here, or you just choose a non-leather purse, or you just educate yourself and people around you, I think it's gonna be helpful.
— Alexandra Volkov
Diego Gomez, the field and event marketing manager at Eclipse Foods, has found Eclipse's plant-based ice cream to have multiple benefits while still achieving the taste and texture of dairy ice cream. 
"It makes it easier for people to reduce their dairy consumption if they can find something that tastes just as good and that's not harming the plant and animals and the environment," Gomez said. 
What sets Eclipse Foods apart from other plant-based ice cream businesses, is that they use the cassava, a drought resistant plant. 
"Using the ingredients that we do, they're all drought resistant, unlike some of the other products that are in the market that are, you know, almond [milk], that require a lot of water," Gomez said. 
Aside from health and environmental benefits, some vendors use plant based ingredients to recreate cultural foods they ate as a child. 
Annie Wang, owner and founder of Annie's T Cakes, incorporates the traditional delicacies she grew up with as a Chinese-American into her baked goods.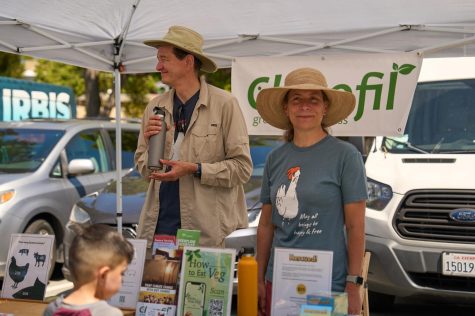 Growing up in an Asian American household, Wang said she found it hard to find foods that were culturally relevant to fit her plant-based diet. 
"The purpose [of Annie's T Cakes] is really to make a more sustainable food system while also being able to share the important cultural foods that people had growing up," Wang said.
Many visitors came to attend the market and festival in support of taking care of the Earth. Attendee Kate Ague commented on the importance of events like the Love Our Earth Festival. 
"I just think it's important to get more in touch with what's going on in our true reality, rather than continuing to be distracted by it," Ague said. "And this is a wonderful opportunity to see what our options are for the health of ourselves, but especially for the planet."
Alexandra Volkov, the co-founder of Green Wolf Foods said that there are many ways to protect our planet besides adopting a plant-based diet. 
"I mean, we all are imperfect, just [take] one small step at a time," Volkov said. "You cannot go zero waste tomorrow, but at least if you choose a reusable bag here, or you just choose a non-leather purse, or you just educate yourself and people around you, I think it's gonna be helpful." 
Leave a Comment