Verbatim: Paly students on Coronavirus
It seems that the whole world is watching the spread of the coronavirus COVID-19. As the number of cases in Santa Clara County grows, reaching 43 on March 9, according to the County of Santa Clara's updates on the virus, the virus slowly demands more and more of our attention. To see how our community is reacting to the pandemic, Anthro interviewed some Palo Alto High School students. Here's what they said:
"Right now I'm not too concerned because there hasn't been a huge outbreak in California. But I do know that the death rate is higher than the flu, but not by too much especially considering it is mostly older people. But I don't know, it could spiral into something way worse than I'm thinking."
— Juliana Walrod, senior
"My mom bought a bunch of hand sanitizer and told me not to share with anyone because it's like "liquid gold." She didn't want me to go out."
— Avantika Singh, junior
"I honestly thought that this was something that was going to blow over, that wasn't going to turn into what it has become now. I'm kind of scared, but I also haven't done a lot of research on it yet. But I know my family is freaking out. We just got a bunch of food, we've stocked up. I feel like it was slightly unnecessary, but just in case we're locked inside our home. You never know."
— Sebastian Cartright, senior
"It is kind of scary how fast it's spreading. It might make the school close down, but it's not going to affect my personal life that much. I just have a feeling that most of the students might have minor issues if they catch the virus, but it won't lead to anything. I'm not that scared."
— Kaito Tabor, freshman
"I have mixed feelings because there's a lot of uncertainty about confirmed cases, but it is something to keep in mind."
— Adrian Chu, freshman
"Personally, since I lived in Italy last year and I have many friends in Italy right now, especially in Milano where coronavirus is hitting the second-worst I think, it's a little scary looking at them. Because they're at an online school right now, they can't go outside, and they all have to wear masks. I just hope it doesn't get worse. For now, just stay safe. It sucks, hopefully it can clear out soon."
— Lex Colton, senior
"I think it's kind of scary. There was a Paly student who was sent home over this. Overall I'd say just to stay safe; it's common sense. It's like a slightly deadlier version of the regular virus. Just use precaution. … My mom was telling me not to eat in public because of this, I think it's a little extreme."
— Cary Chun, junior
"Currently I'm not too worried about it. A little bit, but so far we haven't really been hit by it. There's the possibility that a lot of people are infected and we just have no idea about it, but currently it's fine. If something were to happen here I don't particularly believe that they would shut down the school unless more students started getting infected. But if there were a case they'd probably just implement a lot more measures, a lot more cleaning."
— Kian Calnan, junior
"My dad actually wears those latex doctor's gloves when we go to the supermarket. It's ridiculous."
— Cameron Lee, junior
"There's a lot of fear-mongering going on and people are getting too over-hyped about it, but I feel like at the same time the way China's been dealing with it is extremely corrupt and I don't agree with it."
— Aidan Choi, sophomore
"A lot of fear-mongering, a lot of over-dramatization. I read an article written by a dude who is actually quarantined and he was like 'Yeah, it's not that bad.' Because they test him like every other day, and it goes down, and once it hits zero for three consecutive days, he gets to leave and continue living his life. We're kind of chilling."
— Theo Lim-Jisra, senior
"I think people need to chill out. The funny thing is, that email was like 'Oh one parent may have been exposed" and everyone's like 'Oh my god we're all gonna … die.' No, if one person has it then half the school would have it, because the symptoms don't show for two weeks, and I think we're chilling. I think people need to chill out."
— Willow Schmidt, sophomore
"It's a coronavirus. We should be prepared. The country isn't. The problem is that we have is we have a lot of people that work blue-collar jobs that don't have health insurance and they can't miss work. So we've created this system where there are definitely going to people that have coronavirus that still go to work and just ignore their symptoms because they don't want to get evicted from their houses. I think there's just a lot wrong. I don't trust (Vice President Mike) Pence to be a good person to deal with this. I mean, look at what he did for needle exchanges in Indiana. That doesn't seem like a resounding success for public health. There's already been a lot of community transmission here, a lot of people have died in Washington state basically today. I think we're not prepared to handle this and I think it's going to get worse."
— Owen Longstreth, junior
"A lot of the hysteria I think is very misguided and counterproductive. You've seen racism come out of the coronavirus scares that is extremely counterproductive and doesn't help anybody. I think the other thing is that in general the US health system is very badly designed for any public health issue. I mean, the fundamental issue with public health is that if people aren't going to access healthcare, which they don't in the US because they can't afford it, then that leaves us grossly unprepared for any public health emergency like what we're seeing right now. … I think that there has been not enough cooperation between countries on this, which is why we're seeing international spread. I think that countries need to coordinate as far as making sure that people don't transmit it across borders. And also countries need to overcome the desire to immediately lock down, which doesn't actually block transmissions from disease but only results in more paranoia over it."
— Rohin Ghosh, junior
"I think that people should stop thinking that hand sanitizer is working when it doesn't kill viruses. Everyone's buying hand sanitizer and I don't know why. …My stocks are dropping but it's a good time to buy since it will go up."
— Jeremy Pang, sophomore
"I'm planning to go to Russia this summer for studying abroad, and as of right now since Russia shares some of its borders with China and other countries that have coronavirus confirmed cases, the Kremlin and basically most of the Russian republic have been taking pretty discriminatory and racist measures towards preventing the "spread" of the virus. They're implementing facial recognition to identify any Asian-looking people. Public transport people like bus drivers are told to report anybody who looks Asian. Chinese-Russian communities inside Russia are under constant watch, they're told to self-quarantine." "Russia has closed its borders to China and they're obviously losing a lot of trade because they're allies. The Chinese Embassy in Russia sent an obviously really angry, strongly-worded letter to the Kremlin about these discriminatory measures. The most scary thing for me is that there's only been two confirmed cases of coronavirus infection in Russia, and since then both patients seem to have recovered, but a lot of new sources covering this topic are saying that either there's only been so few because Russia's not telling us, or there's only been so few because their discriminatory measures are working. That's obviously much scarier."
— Selena Zhu, junior
About the Writer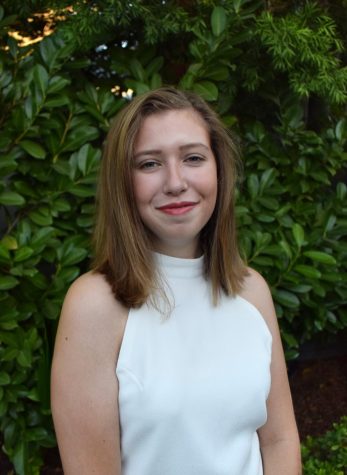 Anya Lassila, Photo Director
Anya (Class of 2021) is the Director of Photography. She joined Anthro Magazine because she is passionate about social activism, especially in the context of the increasing globalization of the world. She hopes to grow her knowledge of social and political causes while working on Anthro. In her free...