Street Art: A Vehicle for Change
MURALS HAVE BEEN AT THE FOREFRONT OF BLACK LIVES MATTER PROTESTS ACROSS THE BAY AREA
"They always say time changes things, but you actually have to change them yourself," famed artist Andy Warhol wrote in his autobiography, "The Philosophy of Andy Warhol."
In 1964, Warhol painted "Race Riot," depicting police beating African-American students as they peacefully marched in Birmingham, Alabama. One of Warhol's darkest works, the painting became an icon of the civil rights movement.
Fifty-six years later, the United States is still grappling with deep-seated racism and police brutality. And now as then, art, particularly street art, is playing a pivotal role in the fight for justice.
In recent Black Lives Matter protests sparked by the death of George Floyd on May 26, street art has featured prominently. Protesters have painted murals across the country and in many Bay Area cities, including San Jose, San Francisco, Redwood City and Palo Alto.
Artist Latoya Fernandez, who worked on the San Jose mural, remembers how the painting process created a sense of unity and strength.
"Everyone came together," Fernandez told Anthro. "We had people coming to dance in the streets and voice solidarity. The community stood together with the Black Lives Matter movement."
According to Fernandez, the mural is important because it is a statement that cannot be ignored. Extending across three blocks in downtown San Jose, the mural spells out "BLACK LIVES MATTER" in white paint.
"It's simple and it's bold," Fernandez said. "We are able to convey our message in a way that can last; we do not need a long story or a masterpiece."
In Palo Alto, amid growing calls for government action, the City Council directed the Public Art Commission to plan the creation of a temporary Black Lives Matter mural. Nia Taylor, a member of the commission, helped lead the mural project.
"It is really important for the city to display that Black lives truly do matter," Taylor said, speaking for herself. "It's important to say that we care."
Spelling out "BLACK LIVES MATTER" on Hamilton Avenue in front of City Hall, the mural's 16 letters feature unique designs painted by 16 different artists.
The Bay Area street art is not without its controversy, however.
In San Jose, the unauthorized mural has sparked debate over whether or when it should be removed. City officials worry it could harm road safety if unsuspecting drivers mistook it for a road marking.
In Palo Alto, the depiction of former Black Liberation Army member Joanne Cheismard in the letter "E" of the word "MATTER" prompted outrage. Cheismard was convicted in 1973 of killing a New Jersey State Trooper. The National Police Association started an online petition to remove Cheismard's image from the mural.
"For law enforcement required to enter the building [City Hall] is there any description other than a hostile work environment?" the group wrote in their petition.
The city refused, saying it has no plans to alter or remove the mural.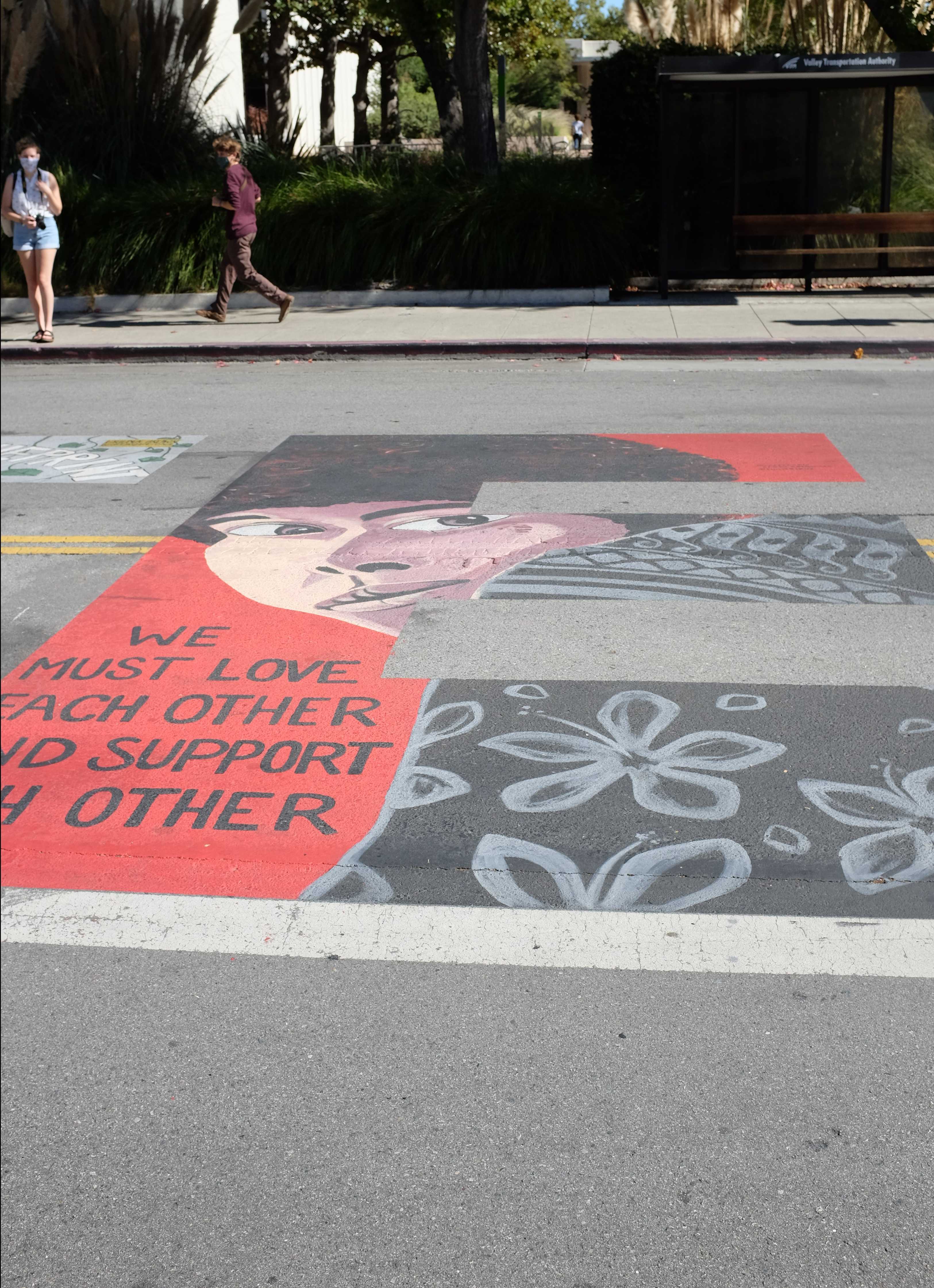 Ben Mayiji, chair of the Public Art Commission, gave his personal opinion.
"It would have been censorship," Mayiji said of removing the controversial letter. "We shouldn't do censorship."
Fernandez agrees, saying street art should be celebrated for its ability to amplify voices.
"Murals speak for the community needs," Fernandez said. "They are culturally responsive and allow us to begin our revolutionary phase."
As Black Lives Matter protests against police brutality continue across the Bay Area, street art continues to be a powerful catalyst for change.
Time itself cannot change things, Warhol wrote.
But a paintbrush certainly can.
Leave a Comment