Safe to park
Palo Alto's decision to allow people without housing to park in church parking lot sparks conversation
After the City of Palo Alto approved a plan to allow people to live in their mobile vehicles at a local church, nearby residents are divided about the program.
City Council member Greg Tanaka said the plan was inspired by other cities, including Mountain View, Santa Cruz and Santa Barbara, which have implemented similar programs. Palo Alto's program differs in that laws about how long vehicles can park at the church are not enforced in any way, according to Tanaka.
Melody Xu, a senior at Palo Alto High School, lives near the church and said she is comfortable with the new program. 
 "I don't fear for my safety," Xu said. 
Xu also highlighted the importance of having a program for unhoused people. 
"Having efforts toward housing projects in Palo Alto is a great step," Xu said. "It should be an overall net positive for the community." 
Some Palo Alto residents claim that having unhoused people in the parking lot will be unsafe.
"I would imagine that outraged Palo Alto residents are primarily concerned about physical altercations, public sanitation, drug abuse, noise, and mental illness issues among those parked overnight," reads a comment left under Palo Alto Online's story about the safe parking program. 
"
We thought it would be a very supportive thing for our church to be doing."
— Ann Campbell, church council member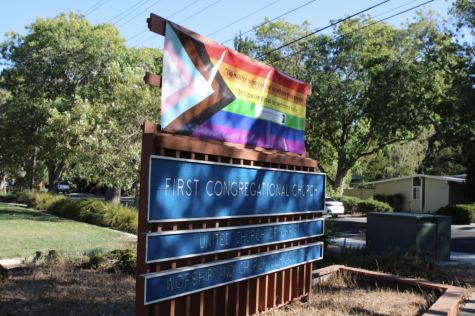 Church council member Ann Campbell said in a community webinar that the church wanted to help people struggling with housing. 
"People in our community who are unhoused — we really feel that we have an obligation to reach out to them to provide support and to help them get into a better situation," Campbell said. "We thought it would be a very supportive thing for our church to be doing."
Program director Emily Foley said that although the program is designed to help people without housing, it can exclude people without access to mobile homes.
"But if somebody who cannot comply with those requirements is interested, we can connect them with other county services that they may qualify for," Foley said. 
Tanaka said a better solution than the safe parking program would be to have more affordable housing in Palo Alto. He said family sizes have shrunk in recent decades and zoning laws and impact fees make building large properties more difficult, so the city should instead have more small housing units built to help curb the issue of homelessness. 
"Personally, I think people shouldn't be living in cars," Tanaka said. "I mean, I think we should actually probably build more affordable housing elsewhere."
Tanaka said he believes the program's intentions are good, but that it was carried out poorly due to the lot's proximity to residential housing. 
"I don't think there are people who are really opposed to the program, but just the implementation," Tanaka said. 
Leave a Comment