Building a better space
Reshaping the way we look at social media through student involvement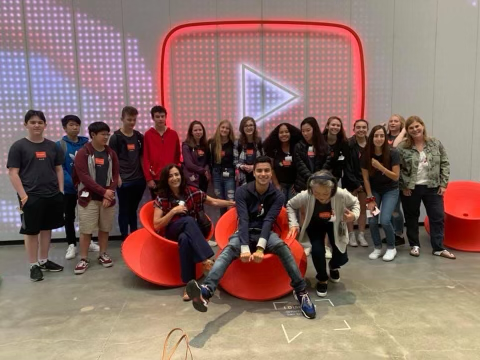 Frantically searching for something to fill the summer only one month before my freshman year was coming to a close, I stumbled upon the internship offered by My Digital Tat2. As a large user of social media and technology myself, I thought that it would be a perfect fit. While I have been told that what you post online stays with you for life, I never realized the significance of this statement. 
Through working with MDT2 for the past three years, I was truly able to understand the potential negative impacts of social media usage and that I have the tools at my disposal to have a positive and rewarding digital life. Since today it is more common than not for students in our community to have some sort of social media presence, it is important for a continuous open-dialog and a mutual understanding of the benefits and pitfalls, a goal that MDT2 seeks to uphold.  
MDT2 is a non-profit organization that works towards creating a safer space online through teaching students and their parents how to use social media in a beneficial way and promoting technology in a positive light. 
"MDT2 is rooted in a positive approach that empowers technology and focuses on not being afraid of it," according to their mission statement. "Technology and the online world is something that carries a heavy responsibility, yet is an incredibly powerful tool."  
Co-founded by Erica Pelavin and Gloria Moskowitz-Sweet, the Silicon Valley based organization serves as a resource for students, teachers, parents and technology companies through providing programs, seminars and consultations. What sets MDT2 apart, however, is the commitment to develop their curricula with a large amount of input from young social media users themselves. 
The goal is to "take the content that I learned from young people and put it in a digestible form for parents," Pelavin said during a conversation with me. 
Over the summer of my freshman and sophomore year of high school, I participated in MDT2's summer internship program where I, along with other high school students, was given the voice and opportunity to share how I interact with technology. The program's operators, Pelavin and Moskowitz-Sweet, approached the internship as an opportunity to listen and learn from what we had to say in order to incorporate it into the curricula. 
We covered topics such as new apps, Internet addiction, online communities and what we thought parents should understand when it comes to our technology use. Aside from in-depth conversations, the internship gives students the experience of visiting and meeting personnel from some of the major tech companies around the Bay Area. The two years that I participated, we visited the corporate offices of companies such as Facebook, Youtube, Pinterest, Chegg and Uber.    
From my experience it is often the case that parents or educators disregard what students have to say when it comes to how they use technology and will instead listen to the non-specific advice provided by psychologists. MDT2 however, makes sure that this is not the case as they believe it is important to source their information about teenage technology use from the actual teens, as well as professionals.   
The most valuable part of the internship in my opinion is definitely the capstone project where each student participant has the opportunity to research and present on a topic that is most interesting to them. The years when I participated in the internship I presented on long-term relationships and mental health apps, two topics that both interested me and I had experience with. Other presentations ranged from serious topics such as the psychology of a like to more fun trendy topics like mukbangs. Overall, the capstone projects act as a way for the organizers to determine what teens are currently interested in to ensure that their curricula is as accurate as possible.  
Aside from the summer internship program, MDT2 hosts a student advisory board that runs throughout the school year and is the creator of the student-run podcast Media in the Middle, both of which I have participated in and had an incredible experience.    
While the co-founder was initially worried that the pandemic would negatively impact the organization, Pelavin now believes it was an opportunity to reach even more communities and their schools. 
"We always thought that the kind of special sauce of our work was face-to-face conversations and it's what set us apart from places," Pelavin said. "So when COVID hit, we were kind of like, oh my god, what are we going to do and I think really all of us would say now that COVID was the best silver lining for My Digital Tat2, because it forced us to scale our work and figure out how to reach more people quicker."
This effort has resulted in building a community of 30,000 students and 10,000 parents across the country. To address this larger audience the organization has hired new educators and have been able to expand the curricula to meet the needs of this more diverse community.
"We have our parent curriculum in Spanish now," Pelavin said. "A woman born and raised in East Palo Alto took our curriculum and made it culturally appropriate and not just a direct translation." 
Hosting the 2020 summer internship over Zoom allowed the organizers to realize their potential to reach even more student opinions. For the 2021 summer internship, MDT2 will expand beyond the Bay Area to include students from as far as Texas, Nevada and Southern California, thus promoting a more diverse perspective and therefore a better experience for everyone involved.
MDT2 has also recently launched the new Sponsor-a-School Campaign that aims to bring the curricula to underserved communities with the help of $200 donations from community members. Donators have the ability to either choose a specific school or community or allow their funds to go towards a school that needs it the most.
Each school that is chosen "will receive a 30-minute on-demand video presentation about digital citizenship," according to the website. "Schools will also receive access to a special resource center including articles and tools for teachers as well as posters and infographics for students." 
Being a part of the MDT2 team has been an incredible experience and one that I am so grateful for stumbling upon. The vision for social media usage that MDT2 promotes is one that I will continue to stand behind. For students who wish to get involved with the organization, Pelavin recommends reaching out via the website's contact page.
Photo courtesy of Erica Pelavin