Astounding Asians: Zohra Segal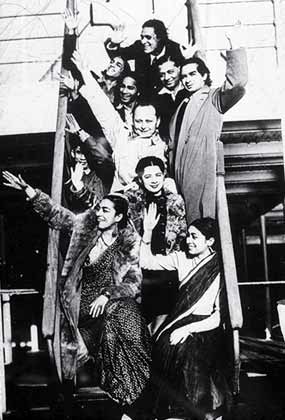 Zohra Mumtaz-ullah Khan, also known as Zohra Segal, was an Indian actress, choreographer, and dancer who inspired millions over the course of 70 years through her work. As one of the earliest indian actresses to achieve international profile, Segal lived a life full of energy and zest.
Born in 1912 into a traditional Muslim family in Uttar Pradesh, India, she was a "tomboy" who loved to climb trees and play games. Already different from the girls who awaited marriage, Segal was full of ambition. Segal attended Lahore's Queen Mary College and was apprenticed soon after by a British actor. From Lahore she travelled by car and boat all the way to Europe, where she became the first Indian to attend a Mary Wigman's ballet school. During her time in Europe, she met famous Indian choreographer Unday Shankar, who would ultimately change her life. This encounter slingshotted her career into action, and  joined Shankar's troupe shortly after , where she toured internationally for five years.
After her experience with Shankar's troupe, she became a teacher at Uday Shankar India Cultural Centre at Almora. It was here that she met her future husband, Kameshwar Segal, a young Hindu scientist and painter eight years her junior. Their marriage broke major cultural norms, since Kameshwar was a Hindu and Zohra was born into a Muslim family. They later moved back to Lahore and founded their own dance institution, only to move to Bombay due to the tension caused by the Partition of India.
Segal soon joined her sister, who was already a lead actress in the Prithvi Theatre, and together they toured India for 14 years, beginning with Segal's acting debut in the first film produced by the Indian People's Theatre Association (IPTA). This appearance was closely followed by an appearance in another film produced by the ITPA titled Neecha Nagar. It was the first Indian film to gain international recognition and won the highest prize at the Cannes Film Festival in 1946 (now known as the International Film Festival). She acted in multiple other plays and films during her stay in Bombay and became an accomplished choreographer as well.
Segal became a single mother to her two children after her husband's suicide in 1959, butdid not let this hinder her ambitions. She soon moved to Delhi and became the director of a new theatre institute, Natya Academy. In 1962 she moved to London on a drama scholarship, where she  gained fame after her first role in a BBC adaptation of The Indian Tales of Rudyard Kipling and appearances in four episodes of Doctor Who, making her one of the first Indian international actresses.  During this time period, the very few Asian roles were played by white people and were often very stereotypical. When Segal arrived in Britain, she said, "It was such that if we were sitting in the bus, the British did not sit next to us. Unconsciously in the minds of white people, there was a hesitation."  Despite this, Segal continued to pursue acting eventually receiving respect and praise, she consistently appeared on other television shows and films, " After the successful TV series Jewel in the Crown, "[the people] would ask permission: 'Lady Lili Chatterjee, may we sit next to you?" Segal says. "Children would run up and ask for my autograph." her widespread recognition drawing the people of Britain to her.
Upon her return to India in the mid 1990s, she performed poetry at a memorial for Unday Shaksnar, the man who had changed her life many years ago. Soon, she was being asked to perform poetry everywhere, her impromptus in both Punjabi and Urdu becoming an everyday occasion. She consistently appeared in a myriad of Bollywood films, earning her the name of the "Grand Old Lady of Bollywood." In 2004 she received The Sangeet Natak Akademi fellowship, a prestigious honor for the performing arts. Six years later, she received the Padma Vibhushan, the second highest civilian award of the Republic of India.
On her 100th birthday, her daughter wrote Zohra's biography titled "Zohra Segal: Fatty." Finally, in 2014, at the age of 102 Zohra Segal died of pneumonia. She lived her life as a queen both onstage and behind the scenes. Inspiring millions with her feisty attitude, her legacy as a Bollywood diva still reigns today.
This is part of a monthly column highlighting Astounding Asians that we don't learn in history class! If you have any questions or suggestions,  please contact Michaela Seah at [email protected].
Leave a Comment