Palo Alto High School math teacher Young-Ju Lee currently lives in her parents' house in Palo Alto, where commuting to school only takes four minutes. But moving forward, the question of long-term housing lingers. 
"I would probably only be able to afford a shack or a closet in somebody else's house based on what I make, so I actually don't know what it [housing] would be like long term," Lee said. "When I talk to other people [PAUSD teachers], it takes them an hour and a half just going to another part of the Bay Area. It's horrible, just the traffic, or the workarounds that I've heard people [teachers] have leaving home at like 5 or 6 a.m. coming here [Palo Alto]."
Lee is one of many teachers across Palo Alto who is concerned about the affordability of housing. But help for some of them — maybe 44 of them, to be exact — just might be on the way thanks to a new  affordable housing initiative for district teachers and classified workers that was proposed this week to the Palo Alto City Council.
Housing developer and Palo Alto resident Jason Matlof, who proposed the plan at the city council's Sept. 11 meeting, says he aims to develop a five-story apartment building with 44 units of 100 percent affordable studios and one-bedrooms for moderate to low income teachers. Located at 3265 El Camino Real, its proximity to California Avenue and seven PAUSD schools where teachers can walk, bike, or take the VTA 22 bus route to work make it a convenient location. 
According to Matlof, only one out of four people who work in Palo Alto lives in the city, and teachers just starting out in the district often have to look elsewhere for housing. With 87 percent of PAUSD teachers commuting from out of town, Matlof said the plan would cut down time spent on the road and help recruit and retain more teachers.
"We'll get teachers and PAUSD staff out of their cars and off our highways and roads and house them nearby to schools where they work, which will reduce traffic, greenhouse gas emission, and competitive benefits," Matlof said. 
At the meeting, 20 speakers, including nine teachers and representatives of the Palo Alto Educators Association and the California School Employees Association spoke in support of the initiative. Their sentiments were echoed by 11 Palo Alto residents, including a Gunn High School student who also spoke at the meeting. 
For Paly English teacher Hunter Reardon, finding sustainable housing is a struggle he knows all too well. Reardon spent the first seven years of his career moving four times between three cities within a 30-mile radius of Palo Alto. Speaking at the Sept. 11 Palo Alto City Council meeting, Reardon said he and other teachers would have greatly benefited from the Matlof's housing project as a first-year teacher.
"I know I'm not the only teacher in this community who at age 23 had to somehow figure out their first year of teaching while also enduring an hour plus drive each way, [had to] see most of their first year salary go toward rent or an enduring net decrease in living conditions after moving out of college dorms and into their career, or all three," Reardon said. "That's not even to mention teachers who continue in this manner for so many years that they eventually choose to take their talents and their families elsewhere."
Jennifer Ellington, a teacher at Ellen Fletcher Middle School, said cutting commute time would give teachers the opportunity to attend school events like sports games and concerts. 
"I cannot tell you how many times staff [has] wanted to attend an event and it's just not possible with a long commute, including the city council meeting," Ellington said. "There is already a national teacher shortage. Having affordable housing in the community will attract and retain teachers for our schools."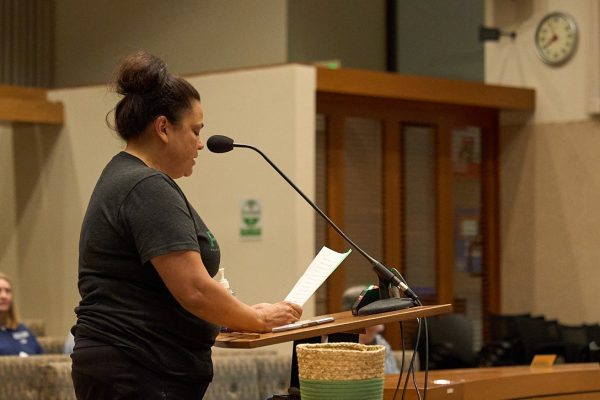 Jesse Ladomirak, vice president of the Palo Alto Board of Education seconds this. 
"Living closer to our schools will help educators support PAUSD students in a variety of ways," Ladomirak said. "More significantly, it will improve their quality of life by reducing their commutes and giving them more time with their families. This generous project is an outstanding opportunity to make a small dent in the thousands of housing units Palo Alto must add. It is housing for some of the hardest workers in our city."
Palo Alto's strict building code may present some challenges to Matlof's project. The apartment building already exceeds the height limit and only includes half the amount of parking spaces required. 
Funding can also be tricky — the project's funds will come entirely from private investors, but Matlof is hopeful that the project will generate enough money to make it profitable. 
"We might not make as much money as developers are doing in other cities where they're not restricted by one hundred percent affordability," Matlof said. "And that's the compromise, and I hope that this sets a precedent for both the government and for other developers, because the government is going to have to give us entitlements that are a stretch."
Although the project will not solve all the housing problems for teachers in Palo Alto, it will be a much welcomed small step towards affordability, or as Meb Steiner, president of the CSEA Palo Alto Chapter 301 put it, "a beacon, a model, [and] a possibility."