Activist answers
Using her voice to dispel Anti-Asian hate.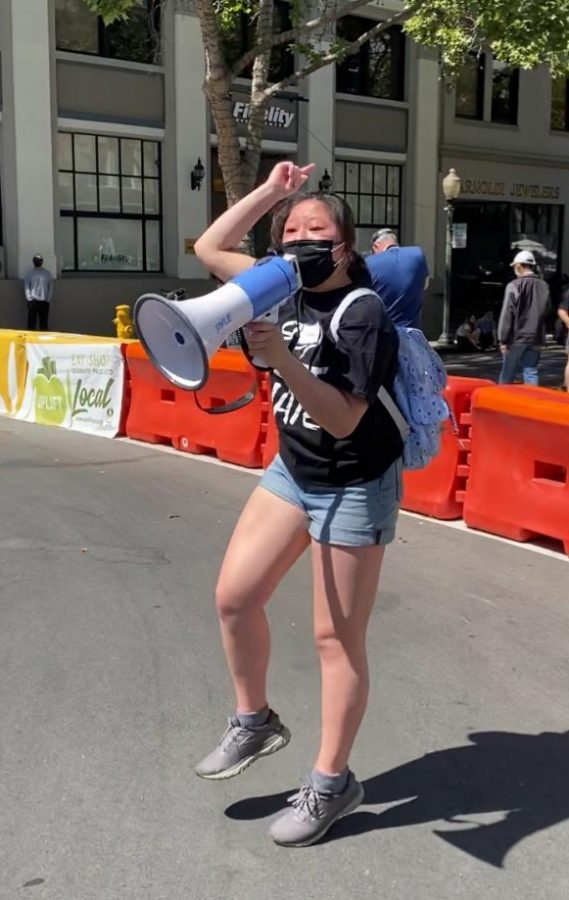 Sophomore Johannah Seah, Palo Alto High School incoming student body president for the 2021-2022 school year, is outspoken on racism against Asian Americans. Seah spoke on March 28 at a "Stop AAPI Hate" rally at Palo Alto City Hall and gave a similar speech again on May 2 as a part of City Council member Greg Tanaka's "8 by 8" campaign. Anthro sat down with Seah to talk about the rallies and her views on hate crimes against Asian Americans.
Can you explain how you got involved in the Stop AAPI Hate rally on March 28? What was your motivation in attending and speaking at this event?
My ASB advisor, Mr. [Greer] Stone told us about a protest that was happening on the weekend. I've always wanted to go to an Anti-A.A.P.I. hate protest. I wanted to express my feelings and also express the steps that we need to take.
I also wanted to share a message with people, especially with younger children, that it [racism] is more than just love or hate.
I wish I knew that when I was younger, because my perspective changed so drastically. I wanted to write a speech that would center around moving forward in a way that's productive instead of just love or hate, or just wishing and being idealistic.
"
I wanted to write a speech that would center around moving forward in a way that's productive instead of just love or hate, or just wishing and being idealistic."
Have you or your family ever faced racism?
I know my parents and sister have because they were out and this man wasn't wearing a mask and treated my parents and my sister like they had COVID-19 because they were Asian.
While this wasn't a very specific instance of discrimination, one narrative that I have been told my whole life is to be very quiet or to be not as sensitive, just suck it up, and keep going.
Asian people, especially Asian girls are taught to be very docile or quiet or silent, and not really speak up and make a commotion. But again, I'm a very loud person, I really like to speak up, I'm very confrontational. If there's a problem, I want to address it right here right now.
Many Asian Americans are taught to be quiet and because [of that] especially there aren't a lot of Asian Americans in politics, or there aren't a lot of Asians that vote or a lot of Asians that go to political rallies.
What is your message to others who want to speak out about this issue?
Caring is a good first step. It's sometimes hard to empathize especially if it [the issue] doesn't specifically affect you. But, empathizing, understanding and caring about these issues are important steps as well as learning about it because having sufficient information will always be more powerful to you.
You always need an education and information so you know what you're speaking for and what you're speaking against. Speaking out can look different in many ways. It can be orally speaking out or on social media, or just with your friends. It's really just educating, having the passion and commitment to it, and sticking to it.
What do you think people should take away from attending the protests?
What we really need is for people who attend the protest to understand that it isn't a performative thing, and it isn't a one time thing where you just go to a protest — good, you've done your work. It's actually something that continues, onwards, and that has to be done daily. It has to be done effectively.
In that sense, that was my message that people continue to do this in the future, because… individual apathy is also what is important to address. Not saying that racism can be solved by individual action because it [racism] is very systemic, but in general, societal apathy is what needs to be addressed.
When laws legislature, governments, people are apathetic towards violence towards Asian Americans or oppression, that leads to a lack of legislation, a lack of effective solutions and a lack of transparency, etc. because it really just takes care of people who are getting hurt and it takes passion and action dismantling systems of oppression, and a lot of it isn't through police action.
It isn't through what we think would work, but it's through community grassroots organizations, rising up together and putting in that type of service to help people and having solutions that are preventative for the future.