Suffocated by statutes
LGBTQ teens watch as their rights are stripped away across the nation
May 24, 2022
A new Louisiana law prohibits transgender women from competing in K-12 and college women's sports.
A new Tennessee law allows teachers to not use their students' preferred pronouns.
A new Arizona law punishes teachers for protecting student confidentiality around certain issues, like a student coming out as queer and not wanting to tell their parents.
A new Florida law restricts conversation around LGBTQ topics in the classroom.
This constant stream of legislation may seem like white noise to much of America, but to LGBTQ community, it serves as a reminder of overwhelming efforts to dismantle rights.
Nearly 240 anti-LGBTQ laws were introduced in the United States in the first three months of 2022 alone, according to NBC, a stark increase from the 41 in 2018.
Some are recognizable by name — the Florida "Don't Say Gay" bill being a particularly well-known one. Other notable efforts include Texas Governor Greg Abbot's labeling of gender-affirming care as child abuse, nationwide targeting against transgender athletes, Texas's banning of LGBTQ-related books, and much more.
California in particular has been relatively immune to this trend so far, among other states such as Oregon, New York, and Montana, but still, Palo Alto High School's LGBTQ teens watch these bills from afar with a sense of helplessness.
Transgender athletics
These laws have particular targeted transgender student athletes in states like Arkansas, Michigan, Missouri, Louisiana, and more. Nonbinary Paly athletes Mars Bau and Nathaniel Ibuyan (both use they/them pronouns) spoke to Anthro Magazine about their thoughts on the targeting of transgender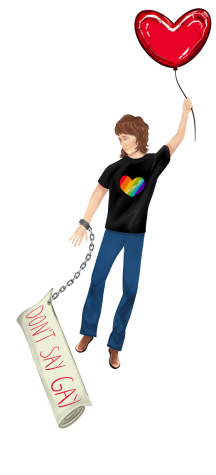 athletes.
Ibuyan said they believe a lot of people who are against transgender athletes playing on their preferred teams are disguising discrimination as fairness.
"It's really about control and discrimination," Ibuyan said. "It's sad to see people put up this facade that it's to protect 'women and girls' when it's really just harming young athletes."
Though Ibuyan said the wave of laws has been upsetting, they said targeting of transgender athletes has been happening for a while.
"I think that the laws banning trans athletes isn't unprecedented at all," Ibuyan said. "I'm of course upset, but not surprised."
Bau said they don't understand why transgender athletes' freedom to play on their preferred team is being taken away, especially given that transgender people already face a high baseline level of struggle due to dysphoria.
"The deck of cards you're given [as a transgender person] is not equal to everyone else's, but it's something that you accept and something that you deal with," they said. "And so you're already dealing with these struggles, and you accept that you're dealing with these struggles, but then to have outside people make it harder, it's just like, why? Why would you do that to me?"
Bau plays on the girls' soccer team because, they said, when given the choice between the women's or men's team, they feel more comfortable with the one they've played on for most of their life. However, they said that transgender athletes should have the freedom to do what makes them happy.
"I don't understand the point of denying trans people the right to do something they want or do something they enjoy, especially just because they're people too, they deserve to have the freedom anyone has," Bau said.
"
You're already dealing with these struggles, and you accept that you're dealing with these struggles, but then to have outside people make it harder, it's just like, why? Why would you do that to me?
— Nonbinary Paly athlete Mars Bau
Bau said that because they have a supportive community, they don't have to face as much discrimination in athletics and aren't as aware of other transgender athletes' struggles.
"I live kind of in a bubble, right?" Bau said. "Because we live in a progressive area. So I think a lot of times I'm just not as aware of the struggles that other trans athletes go through."
However, when they do experience that discrimination, Bau said they tend to turn to mentor figures, like their sports coach, who Bau says is LGBTQ. Bau also said that they turn to their community.
"It [awareness of anti-LGBTQ laws] comes up sometimes," they said. "And then … that's one of the times you just turn to the people who you feel like understand, which again would be, like, my mentor figures or my friends."
Books and education
Education and literature has been another area under attack recently, with banned books lists piling up, "Don't Say Gay" bills being introduced all around the country, and lists of hundreds of banned words relating to inclusive sex education, LGBTQ identities, gender, sexism, and intersectionality.
Paly librarian Sima Thomas said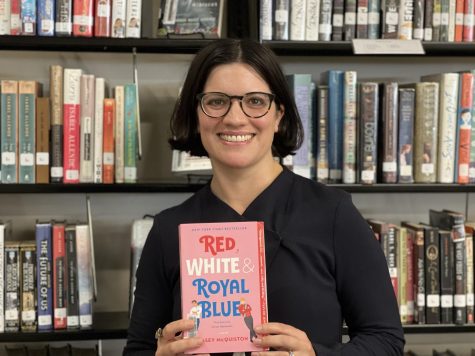 that she finds the laws against queer curriculum and literature in schools troubling, as she sees much value in LGBTQ and non-LGBTQ students seeing queer representation.
"Through all of our sections in the library, we have books that reflect different identities, different sexualities, different genders, and that's very important to me," Thomas said.
Thomas said she makes a conscious effort to include diversity in the Paly library, and to listen to the voices of queer students in terms of what literature they feel reflects them.
"It's one of my favorite parts of my job," Thomas said. "I love it. I love buying books and I especially love curating a diverse reading list."
Thomas said she believes that the reasoning for banning LGBTQ curriculum and books is flawed, and doesn't actually accomplish its goals.
"I feel like the people writing this law have this … attitude of like, 'Oh, well, we're just going to cover our ears and shut our mouths and no one will be gay,'" she said. "And it's like, well, wouldn't that be sad, first of all, because all of the ways that we exist are beautiful and valid and contribute to a better whole as a group. But it's just so, I mean, on some level, it's just so dumb. It's just like, oh, if you never show a child who's questioning their gender, questioning their sexuality, a book about someone who's doing that, then they won't ever follow through with it, and they'll just remain straight and cis … that's not reality"
Living Skills, and sex education in particular, is a subject that threatens to be especially affected. Paly Living Skills teacher Joanna Hubenthal said that she's concerned about the mental health issues that come along with seeing anti-LGBTQ laws increase.
"LGBTQ youth and adults everywhere are affected when their identities are legislated," Hubenthal said. "So the mental health issues that come from that anxiety are huge and that's super troubling."
It's difficult for queer people to not see themselves reflected in their own curriculum, Hubenthal said.
"It's really important for other people to understand that people exist as they are and it's no big deal and they deserve love and respect just like everybody else does, and that there are resources that are available to them," she said.
"
All three of my children identify as LGBTQ. I've got a child that's non-binary. And so I find all this stuff very upsetting. So yeah, I think all these laws attacking people's identities are just horrible … The way they [people] are should not be legislated.
— Living skills teacher Joanna Hubenthal
Hubanthal said she's felt especially upset by the increase in volume of anti-LGBTQ laws because of her kids belonging to the LGBTQ community.
"All three of my children identify as LGBTQ," Hubenthal said. "I've got a child that's non-binary. And so I find all this stuff very upsetting. So yeah, I think all these laws attacking people's identities are just horrible … The way they [people] are should not be legislated."
Alyssa Bond, another Living Skills teacher, spoke to the value of LGBTQ curriculum in her classes.
"I think incorporating LGBTQ curriculum into the high school level allows for more representation and a more honest reflection of our school population, climate, and demographics," she said. "Students of every identity deserve quality and accurate information they can use to make healthy decisions for themselves and potential partners."
Hope
An article by the Psychiatric Times writes that two-thirds of surveyed LGBTQ youth claim discussion over anti-LGBTQ state bills has negatively impacted their mental health.
"Their experiences of marginalization, discrimination, and peer and family rejection serve as significant factors for increased suicidality and mental health symptomatology—which is the epitome of minority stress theory," the article wrote.
Bau and Ibuyan's stress over witnessing their rights being taken away in other states, Hubenthal's distress about her own children, Thomas's disquiet at the censorship and lack of proper education — it's not unique.
At the same time, though, protections, rights, and nondiscrimination bills are also being introduced.
A new Nebraska law prohibits discrimination in public accomodations based on sexuality and gender identity.
A new Georgia law prohibits the gay and trans panic defense.
A new California law designates the state as a safe haven for transgender kids and their families.