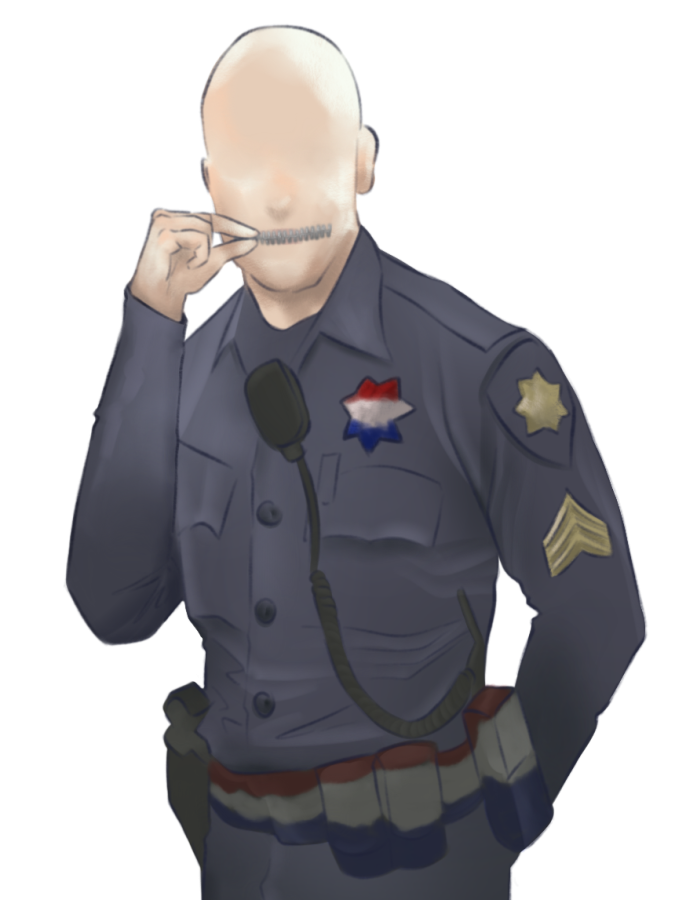 OPINION: Rehiring for reform?
Will hiring a new chief of police improve department transparency?
March 28, 2022
Currently in the process of hiring a new chief of police and new police officers, the Palo Alto Police Department is in a unique place where it has the capability to radically transform its policies and create change.                                                                                                                                                                          
In this transitional stage, the PAPD should acknowledge its institutional opacity and take steps to remedy its history of not taking accountability.
The PAPD has shown a shameful lack of transparency in the past, most notably in the case of former police officer Thomas DeStefano. In 2018, surveillance footage showed DeStefano pinning resident Gustavo Alvarez to a car after screaming at Alvarez to exit the house while pointing a gun. DeStefano then watched as another officer, Sergeant Wayne Benitez, slammed Alvarez's head on the windshield. 
In a subsequent police report, the officers omitted mentioning the unnecessary violence. Instead, Benitez wrote that the only force used was during the removal of Alvarez from his home. 
Even as an isolated incident, this would highlight major shortcomings in the PAPD's accountability. Unfortunately, there's more.
In 2019, Palo Alto resident Julio Arevalo was arrested outside of Happy Donuts. DeStefano slammed Arevalo to the ground and shattered his eye socket, according to Palo Alto Online.
And according to NBC Bay Area, when the news outlet requested bodycam footage of this incident, the PAPD declined even though these records are required to be made public by law.
"
For an institution that's supposed to exist for public safety, the PAPD's actions have shown more concern for its own reputation than for Palo Alto citizens' good."
The only statement released by the PAPD concerning this pattern of opacity in violent arrest cases was this: "The Palo Alto Police Department appreciates the important work of the District Attorney's Office and supports the District Attorney's recent decision involving a former Palo Alto police officer," Jonsen said. "The community has my commitment that our police officers will continue to serve the community through professionalism, respect and integrity and work each day to ensure their trust."
Some may say that the issue is solved now that DeStefano is no longer on the force. Though DeStefano was the only perpetrator of police brutality in these cases, the police transparency issue involves far more than just him. 
In early 2021, the PAPD stopped allowing the press to talk with police officers or the chief of police, instead sending out written responses from the chief of police to journalists' questions, with a 24-hour waiting period between each follow-up question, according to Palo Alto Online.
Clearly, the problem's just been getting worse.
An overwhelming number of people would have needed to enable this lack of accountability in order for this grievous lack of transparency to be maintained. It's a department-wide issue that desperately needs to be fixed.
For an institution that's supposed to exist for public safety, the PAPD's actions have shown more concern for its own reputation than for Palo Alto citizens' good.
But there is hope for the future.
On Jan. 20, the chief of police announced his plan to retire and will end his duties in mid-June. Now, the city is in the process of replacing him, and the situation's looking hopeful. 
The City Council is considering auditing the PAPD's hiring practices, and the Human Relations Committee is hosting "listening sessions" to garner community feedback on what residents would like to see in a new chief. Evidently, they are willing to make change.
It is the PAPD's duty to the community to be transparent and accountable. In hiring a new chief of police and adding new police officers, they should emphasize systemic reform and take community feedback to heart.