Plant-based protein: How do the options stack up?
As the popularity of plant-based diets grows, more fast food joints are serving meatless options
April 2, 2022
At the peak of the pandemic, many Americans found themselves consuming more plant based foods. In just the past two years plant based food sales have increased by 43%, and in 2020, 57% of American households purchased plant based foods. Here, I reviewed meatless options from three nearby eating joints.
Chipotle plant-based chorizo
8.5/10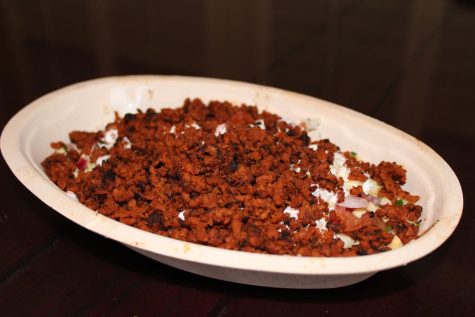 At first glance, this plant-based chorizo looks strikingly similar to Chipotle's seasonal chorizo with meat. The color, size, and shape all look very close to the original. But after one bite I could instantly taste a flurry of flavors — from smoked paprika to garlic, and even tomato. By the end, I was even left with a bit of an earthy aftertaste. I noticed the flavor that was similar to sofritas, Chipotle's other plant-based protein. Both use pea-plant protein as a base, which is sourced from yellow peas typically grown in North America and Europe.
Texture-wise, the chorizo surprised me. I had expected something similar to the moist sofritas because both are made from the same protein type, however this chorizo is quite dry and chewy, but most plant-based meats are like that. Although I'm not a fan of this texture, I think that the flavor was a good pair with the rest of the ingredients that I ate alongside it in the burrito bowl. If you are someone who likes Chipotle's sofritas but wish they had more flavor, this plant-based chorizo will be a perfect match.
Local Kitchen's Proposition Chicken Fake Chicken Salad
6/10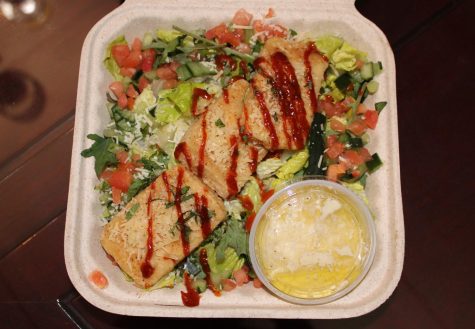 Just like many others, when I found out about the new micro food hall, Local Kitchens on California Avenue, I knew it would become a very convenient place to dine. Local Kitchen advertises itself as having the "Bay's best restaurants under one roof". One of these restaurants is Proposition Chicken. Of its numerous vegetarian and vegan options, I decided to try the "Fake Chicken" Salad.
To my disappointment, the "Fake Chicken" was nothing but breaded tofu and not comparable to real chicken. The outside breading of the tofu was greasy and added no flavor, and, after only a few minutes, the outside was getting soggy.
The texture was exactly how I would have expected tofu to taste like, spongy and nothing like chicken. However, I think that the salad really improves the dish and helps combat the oiliness from the "fake chicken". Overall, there was nothing special about this dish, but nothing necessarily bad. It lacked flavor and elements of the breading were not favorable, but it was generally palatable since it was paired with a balanced meal.
KFC Beyond Fried Chicken
8/10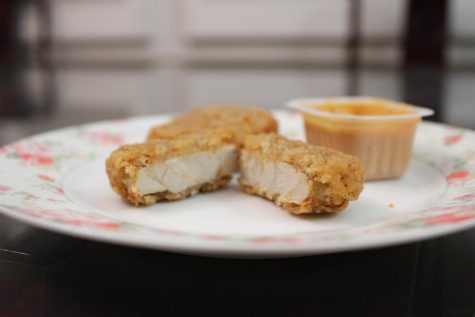 If you have ever had a fake meat chicken nugget, you would know that for the most part they are disappointing. So, when I found out about KFC's Beyond Fried Chicken, I was prepared to keep my expectations low.
But I was pleasantly surprised. It tasted just like a regular chicken nugget, having the same nostalgic deep-fried and crispy breading.
Under the breading, texture of the nuggets were rubbery and hard to chew — a jaw workout. When I cut one in half, it looked way too smooth to be any type of meat, almost like a cheesecake.
As someone who values taste over texture I think that these were a win and I would definitely recommend them. However, if you are really looking for that classic chicken texture these may not be for you.
No matter what your diet is, I encourage you to try at least one type of plant-based protein, whether it be one of the dishes listed above or not. There are plenty of options and more to come, so either way there will always be something that will cater to your personal taste.