New free lunch program directly impacts low-income students
Students and staff give their opinions on the new California mandate for free meals.
October 9, 2021
"Big Daddy's Cheese Pizza" reads one of the options on Palo Alto High School's Thursday cafeteria menu. This meal option is part of a new and larger lunch program now mandated statewide. 
Gov. Gavin Newsom approved a state-wide meal program for all California public schools in July. It is now the most widely applied free school meal program in the country. Over 6.2 million schools in California, including Paly, are required to provide all students with free meals. 
In 2019, only 6.5% of PAUSD students qualified for free lunch and 2.5% for reduced-price meals, according to PAUSD Student Nutrition Director Alva Spence.
But with free lunches available to all students, the number of students utilizing this system has skyrocketed. Spence said that the number of free lunches served in PAUSD this school year has more than doubled since the first quarter in 2019.
"The intent was to make sure that students had meals to eat that they did not have to worry about that [getting lunch] during the school day," Spence said. "We hope that students that need meals will continue to come and get them."
Previously, non-qualifying students had to pay for every meal they purchased at the cafeteria, which could have significantly impacted families struggling financially. The hope for many Palo Alto staff members is that with the new state-wide mandate, a multitude of students will be affected, ranging from low to medium-income students. 
"My guess is it [the free lunch program] has a greater impact on these [low-income and medium-low income] families than we will ever know," said Michelle Steingart, an assistant principal at Paly.
Students share these opinions about the new lunch program positively affecting them and their specific financial circumstances.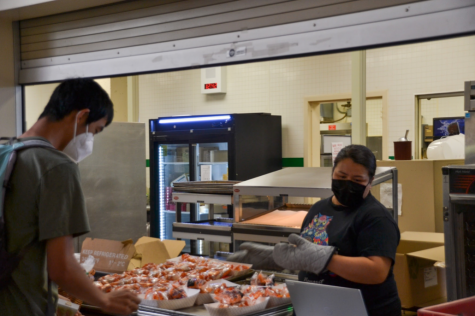 According to a school-wide survey conducted by Anthro Magazine, out of 72 responses, 10.3% of students said they get free lunch from Paly for financial help.
"I think it [the free meal program] is a really good program for kids who can't get it [meals] and also just for anyone because in the past, lunch was really expensive," junior Audrey Guo said. "And it wasn't good."
Not only are free meals helping families financially, but they also serve as a benefit to mental health and overall well-being throughout the day, according to Merilyn Tonga, a member of Paly's Guidance Department. 
"It's always good to have something to eat during the day because there's kids that don't [eat]," Tonga said. "Mentally I think it's good, physically, yes, in all areas. It's a good thing that's happening."
However, some are concerned that the meals aren't as satisfying and appealing as they have been in previous years. 
COVID-19 restrictions along with the high number of meals schools need to produce daily have led to students missing the wider variety of cafeteria meals.  
"I get numerous responses from parents and students concerning the free lunches," Spence said. "Some students and parents miss the heartier, made from scratch selection of entrees we made pre-COVID, especially at the elementary level."
Although the free meal program is widely appreciated and popular among the students, some think that the quality of food has actually decreased.
"I was one of the kids who liked school lunch before … although, admittedly, it's a bit worse [this year] than it was before," freshman Joe Katz said.
"

My guess is it [the free lunch program] has a greater impact on these [low-income and medium-low income] families than we will ever know."

— Assistant Principal Michelle Steingart
Rosa Lopez, a kitchen worker in the Paly cafeteria, says that the transition into the free meal program has proven to be rocky, especially in figuring out how many lunches to prepare for students.
"They [students used to] sign up, and that would give us an idea of how many kids were going to eat… you want to think that all the school's going to eat [from the cafeteria]," Lopez said. "A lot of it [the amount of lunch preparation] was just a guess."
Despite that, many administrators and Paly staff support this new program and hope to see its continuance in the future. 
"Food… is for everyone," Tonga said. "Us students and us faculty should encourage it [the continuation of the state-wide free lunch program]."