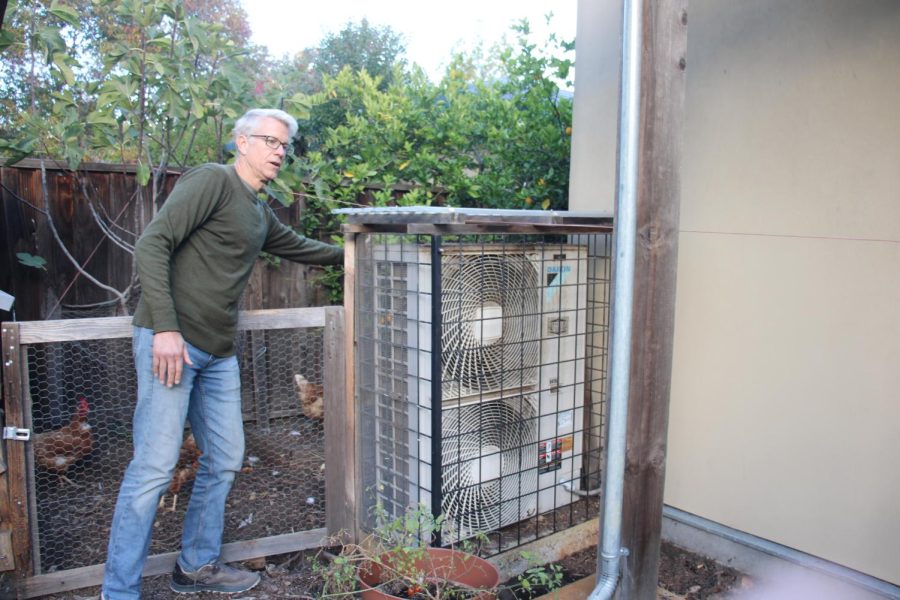 Flowing into change
An unlikely aid in the fight against climate change: water heaters
The outside portion of the heat pump is a boxy, softly-whirring thing. Sven Thesen points us to one side of it, then another, excitedly explaining the way it draws in heat from the outside air. His dog, also excited, barks eagerly, and the chickens penned next to the heat pump cluck in chorus. 
The water pump water heater's inside half, hidden inside a closet, looks just like any other: a plain tank with pipes running up and down, up and down. 
Despite its understated appearance, an electric water heater is putting in more than its fair share of work and is just as effective as its more traditional gas counterpart..
According to The City of Palo Alto's website, Palo Alto's goal is to get 80% less CO2 emissions than the 1990s, meaning all energy must come from wind, solar, hydro, and other green sources to achieve carbon-neutral energy production.
The website also states that water heating contributes more greenhouse gas emissions than anything else in Palo Alto homes, with 90% having gas-powered water heaters and a quarter of home energy use being from water heating.
"
They're just giving money away for these water heaters,"
— Sherry Listgarten
Although the norm is to go with the gas-powered heater, there are many benefits with electric heat pump water heaters (HPWH). 
With fewer health and safety risks than gas water heaters there is a reduced risk of backdrafting. 
Not only is the cost of an electric water heater lower than gas-powered heaters if homes have a rooftop PV system, but its complying with Palo Alto's 100% carbon neutral electricity goal, with zero carbon footprint. 
Additionally, the City of Palo Alto provides great incentives for those who switch over to water heaters. 
A rebate of up to $2,300 is currently offered both for those who make the switch with a City contractor and those that do it independently.
According to Sherry Listgarten, a blogger for A New Shade of Green on Palo Alto Online, electric water heaters are highly recommended. 
"They're just giving money away for these water heaters," Listgarten said.
The switch over from traditional to electric water heaters will soon become even easier. 
According to City Sustainability Manager Christine Luong, the city is taking great steps to encourage this. 
"
It is long term and it will save you money an is so much better for the planet,"
— Sven Thesen
Early in October City Council approved a new Heat Pump Water Heater installation program for those interested in replacing their gas water heaters with electric heat pumps. 
Through it, residents will be able to finance the change over at a heavily reduced cost, if there is any at all.
"Our goal is to replace 1,000 gas water heaters by the end of 2023," Luong said. "We hope to learn from the program and see if we can replicate it with other gas appliances."
Altering daily routines could be a good start to make a difference and achieve California's goal for a zero carbon footprint. 
"We are really strongly encouraging people to go to do this because it is long term and it will save you money and is so much better for the planet," said Thesen.
Listgarten suggested changing of lights to LED's and turning down thermostats. Teens can also go thrifting and biking around town. Additionally, when it comes to vacationing, local traveling has a lesser CO2 impact than flying. 
"There's so many things you can do," Listgarten says, "So be informed. Communicate in ways that people can understand you and start small, don't bite off more than you can chew. I think starting small is better than starting big in some ways."