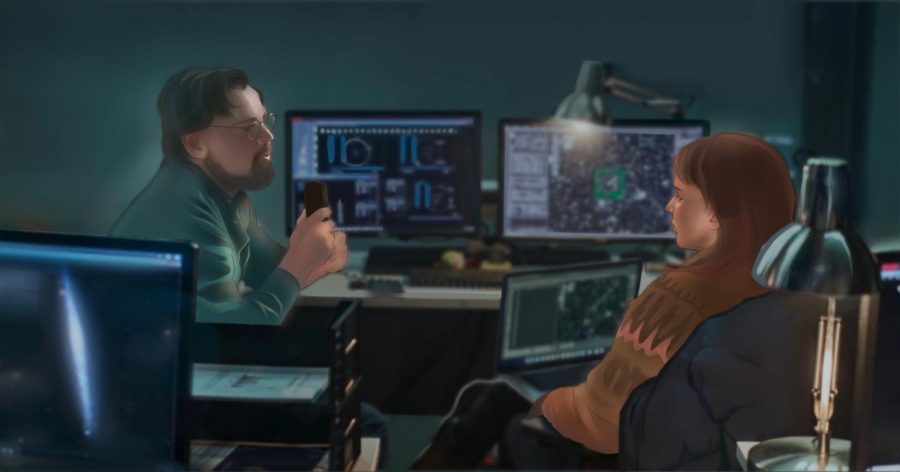 'Don't Look Up': A prophecy?
What if we fail to manage the climate crisis? Netflix tragicomedy offers a glimpse
February 10, 2022
In a time when little more than Marvel movies mobilize large audiences, it's even more surprising that this time, it's a political satire. 
"Don't Look Up" is a biting commentary about politicians' mismanagement of the climate crisis, and, according to Variety, has already been breaking records, receiving the most viewing hours for a movie in a single week in Netflix's history. Initially, the star-studded cast was the only factor that intrigued me — it ranges from Meryl Streep to Ariana Grande; even Kid Cudi makes a cameo. However, a clever script, shocking parallels to reality, and phenomenal acting elevate this film and give it appeal to viewers who love satire and are not usually politically active.
This film—which captured four Oscar nominations in Best Picture, Best Original Screenplay, Best Film Editing, and Best Original Score on Tuesday—tells the journey of two insignificant scientists, Michigan State astrophysics professor Randall Mindy (Leonardo DiCaprio) and Ph.D. candidate Kate Dibiasky (Jennifer Lawrence), who are trying to warn the world of an approaching comet that will exterminate all life on Earth. The comet is used as a proxy for the looming climate crisis and is meant to bring light to the hypocrisy of today's society and its politicians — how they stress the importance of the crisis yet always seem to prioritize something above it.
This film is in the same vein as some of director and writer Adam McKay's previous work. He has directed a couple of satirical comedies with overt social commentaries, such as "The Big Short" and "Vice," so it's no shock the comedic and satirical aspects of this film are clever and spot-on.
It isn't surprising that Leonardo DiCaprio stars in this film, considering his recent work has been focused on environmental documentaries such as "Ice on Fire" and "Virunga" and that he is an outspoken environmentalist. However, Jennifer Lawrence has been known to star in intense roles in dystopian movies such as "X-Men" and "The Hunger Games," and more recently, in thriller movies such as "Red Sparrow" and "Mother!" so this less action-oriented role allows her to branch out and demonstrate her versatility as an actress.
"
"Don't Look Up" is a biting commentary about politicians' mismanagement of the climate crisis, and, according to Variety, has already been breaking records, receiving the most viewing hours for a movie in a single week in Netflix's history."
Regardless of background, both actors pull off their roles. DiCaprio proves his veteran status in the acting industry with his convincing portrayal of an anxiety-ridden, socially awkward scientist. Through his darting eyes, constant stuttering, and doe-eyed expressions, he demonstrates his obliviousness to the deceit of the political world. Lawrence depicts a hotheaded, rebellious graduate student. Her character's frustration about being ignored — conveyed through furrowed eyebrows, a heightened urgency in her voice, and a slow, sarcastic rate of speaking — bleeds through the screen and makes me, as a viewer, just as frustrated as her. Moreover, Lawrence adeptly delivers the stereotypical "Gen Z" attitude, with sarcastic quips and excessive sassiness.
However, what sets this film apart from the rest is the jarring juxtaposition between the fictitious world of Dibiasky and Mindy and our reality. Some scenarios hit a little too close to home such as conspiracies saying the government fabricated the entire crisis to have more control over the people. The installation of an unqualified Supreme Court Justice candidate being more important than a looming crisis. Billionaires prioritizing profit over the protection of the environment. This all seems oddly familiar…
This parallelism is the key message of the film. McKay set out to make a mockery of the American attitude towards the climate crisis. It seems ridiculous how idiotic these characters seem — the president of the United States, the hosts of "The Daily Rip," and Peter the billionaire. However, at second glance, these characters carry an uncanny resemblance to current figures in American society: ex-president Donald Trump; the hosts of "Morning Joe" (a talk show that discusses current political events); and Craig Federighi, an Apple executive. The intentional resemblance to real-world figures makes the message clear: If the world continues to behave as it is right now, with its apathetic attitude towards climate change, then there might as well be a "WELCOME DOOM" billboard inviting a mass-extinction event.
Still, the movie may not be received well because, for some, the political satire is too exaggerated to the point where climate change deniers may feel mocked and may be even more adamant in their rejection of climate change, especially in our current political climate.
I take no offense to the film's message. At first, it's amusing to note the resemblances between the movie and our real world. However, as the timelines stop matching up and the movie storyline veers off course, the similarities I initially noticed become disconcerting, and I begin to feel like a seer while watching the tragic ending of the world of Dibiasky and Mindy, knowing that our society will share the same fate if we continue to stay on the same parallel storyline.