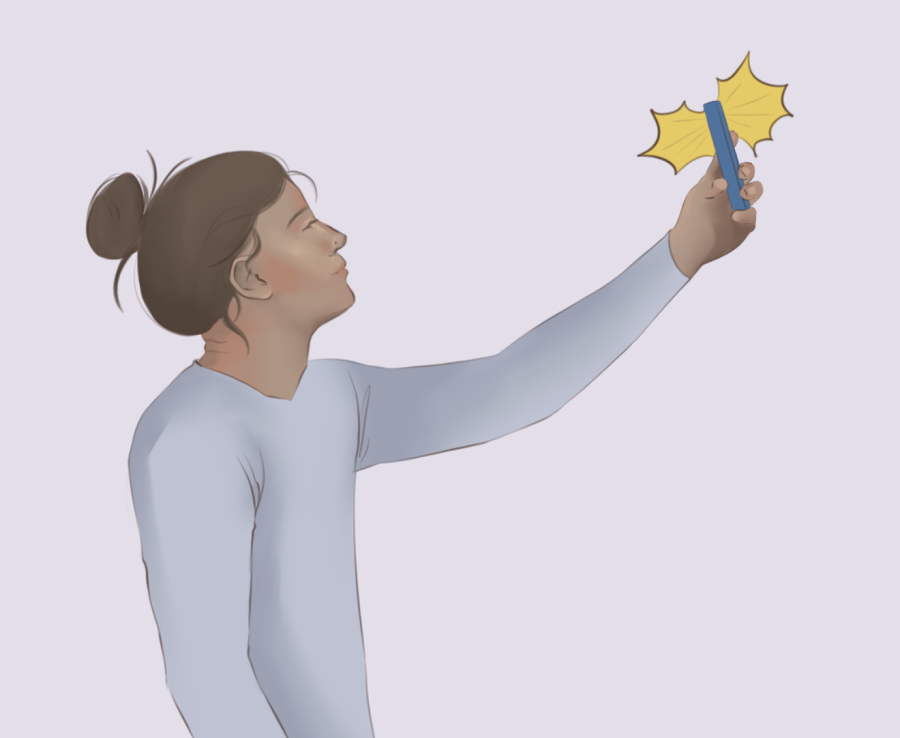 BeReal: Steps to social transparency
Amid frequent social media envy, BeReal tries to break the cycle
May 24, 2022
Junior Carly Chandler receives a notification telling her she has two minutes to snap a picture of her life at its current state. Amid one of her Youtube binges, Chandler starts to panic. "Do I have enough time to retake this?" she thinks to herself as the seconds tick by. Time is running out and there's nothing left to hide, so she snaps her computer screen while her cat scurries across her bed. Waiting for the post to upload, Chandler eagerly refreshes her page wondering if she was not the only one caught red-handed in her Youtube rabbit hole. But to her surprise, her scrolling reveals the same for her friends. 
BeReal, established in 2020, was created to be a "casual Instagram," according to the co-founders, Alexis Barreyat and​​ Kévin Perreau. Recently, the French developed app gained global popularity after the release of the english version. Currently, it charts sixth on Apple's app store. 
BeReal uses a number of tactics to approach transparency. Each BeReal post involves taking a picture with a front facing camera, and then the back camera right after, to show what's happening behind-the-scenes. Followers also have access to how many retakes have been taken for each post.  
Another aspect of the app is not allowing users to see other people's posts until they post a BeReal of their own. This is in an attempt for users to not overthink their own post after looking at others'. 
"
In addition to increasing engagement between students, BeReal has also impacted certain pressures about posting on social media. "
In addition, BeReal uses a notification system that notifies users all at the same time once a day. Users then have two minutes to post what they are doing, leaving users with minimal time to "fake" anything just for a post. Although BeReal allows users to post after this window, posts will get labeled as "late".
At Palo Alto High School, BeReal is growing popular among students who want to share small bits of their daily life with friends. 
"I downloaded BeReal because of the new take it had on social media," Chandler said. "It felt different compared to Instagram, but still kept the same concept of sharing photos."
In addition to increasing engagement between students, BeReal has also impacted certain pressures about posting on social media. 
"In my experience, I think it has improved the Paly community because you are interacting with people that you wouldn't normally interact with on a daily basis, but you are seeing their lives," Chandler said. "You kind of feel closer to them even if you wouldn't talk that much in real life."
"I'd say it's taken away some of the pressure. For example, I almost never post on Instagram because I feel like it's too formal," junior Jonathan Wang said. "However, I upload pictures to BeReal of me looking terrible all the time, but I don't really mind since that's kind of the premise of the app,"
Although BeReal may have a sense of casualty, some may believe that there are still gaps to how transparent a user can really be. 
"Personally, BeReal hasn't really personally impacted the way I view social media," Wang said. "It's mostly different because you can't choose when you post, and you can't add fancy filters."
Chandler also agreed how BeReal has not really changed her outlook on social media. 
"I think social media is kind of fake, and BeReal can definitely still be fake, because people will do it at different times or when they are in a fun moment to make their lives seem better," Chandler said.
Both Wang and Chandler said they would overall recommend BeReal as a fun app to use with friends and other Paly students. 
"It [BeReal] has also made me feel more comfortable about sharing my life since everyone else is showing the same thing, that is not necessarily more interesting than mine," Chandler said.