LaDonna Butler: Bringing New Perspective to Paly
A profile of new assistant principal Butler, the only administrator of color
October 11, 2021
"Rules of Conduct for Teachers…1915," reads the framed cross-stitch sign on the office wall of  LaDonna Butler, Palo Alto High School's new assistant principal.
"The story [behind the sign] is simple — it was here when I got here," Butler said. 
Butler says she keeps the sign on her wall to remind her of how far schools have come since then. At Palo Alto High School, she hopes to continue that progress.
"From then to now, [the expectations for] what the classroom should look like is completely different, and should be because we've grown," Butler said.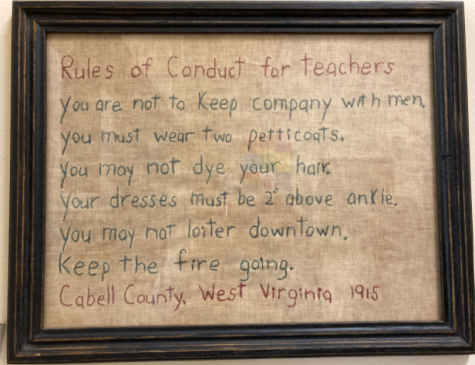 Butler, who transferred from San Jose's Gunderson High School, is among the new staff members at Paly this year. 
"Paly is an opportunity to work in a very progressive district, and when that opportunity opens up you take it because it offers me an opportunity to work with a different student population," Butler told Anthro.
Gunderson's student body is about 60% Latino and 14% Asian, according to Gunderson High School's 2019 demographic analytics. Paly has a higher concentration of Asian and white students (about 35%) and fewer Latino and Black students. Although Paly's student body has a very different ethnic makeup, Butler said she appreciates the ethnic and cultural diversity at Paly.
"I don't believe that just because you're from one race or ethnicity that you're also a part of one culture," Butler said. "We can be from a variety of cultures."
Her main focus on campus is to help bridge the gap between high school and college so students have access to opportunities post-graduation, Butler said.
"Maybe taking a gap year, military … I always say this, though: plan to go to a four year [college], and then you can have the option of the others," Butler said.
"

We have every challenge of every hardship we go through, every 'A-ha' moment of every triumph because now we have that testimony to share it with somebody else."

— Assistant Principal LaDonna Butler
Although Butler enjoyed her time in high school, she didn't have access to the same support for post-graduation planning that she found here at Paly, she said.
"I did not receive the direct communication in terms of: 'This is how you can progress in high school to go on to post secondary opportunities'…I didn't get that exposure until I received letters to go to college," Butler said.
Principal Brent Kline expressed admiration for Butler's seamless transition and for what she hopes to achieve.
"One of the reasons why I believe she has [been doing a great job] is because she's been very thoughtful in her approach, observing what happens already, and then being very clear in terms of sharing ideas and thoughts in an alternative way," Kline said. "Her perspectives in a variety of different ways are going to be helpful."
He also offered a few words of wisdom (and a compliment) for Butler.
"It's important to observe the culture and the climate and what the school already has and to gently bring your thoughts into the situation and into the conversation," Kline said. "She's done a great job."
Butler is currently the only administrator of color at Paly, and she is excited to bring a new perspective to campus. 
"The way that one [white] person might view a situation is very different from how a person of color would view it, so I'm able to improvise and also help in those areas," Butler said.
Everyone, no matter their race or ethnicity, brings their own experiences with them into every situation, she said. 
"That's what's the beauty of life," Butler said. "We have every challenge of every hardship we go through, every 'A-ha' moment of every triumph because now we have that testimony to share it with somebody else."
Butler's goals for the coming year include increasing diversity in specific places, like increasing enrollment of students of color in AP and honors classes, although she said she needs to continue to observe and reflect to know the best approach. 
Butler concluded the interview with a word of advice for students.
"If you compete with yourself and go into the classroom to make sure that you fully understand that learning objective, every day that you leave, whatever that takes, you know that you will become the person that you want," Butler said.